My Single seat 737NG simulator at June 2018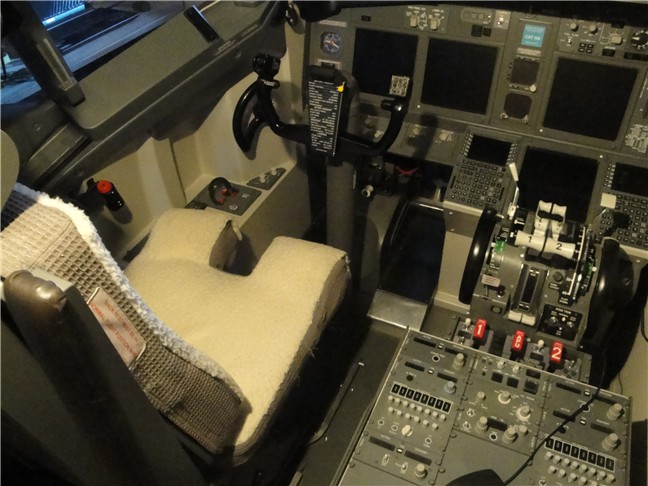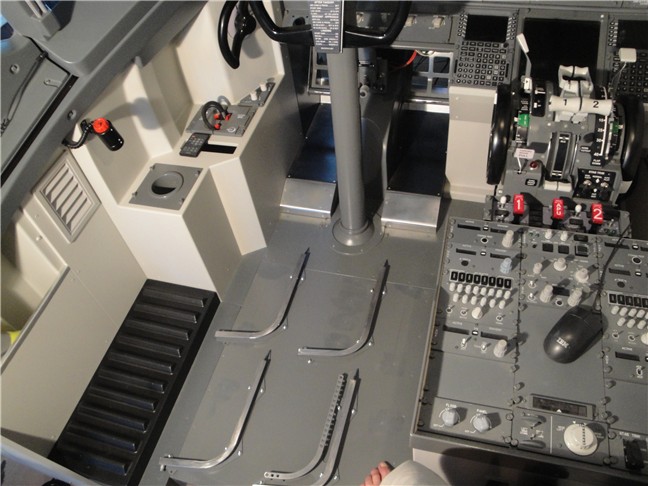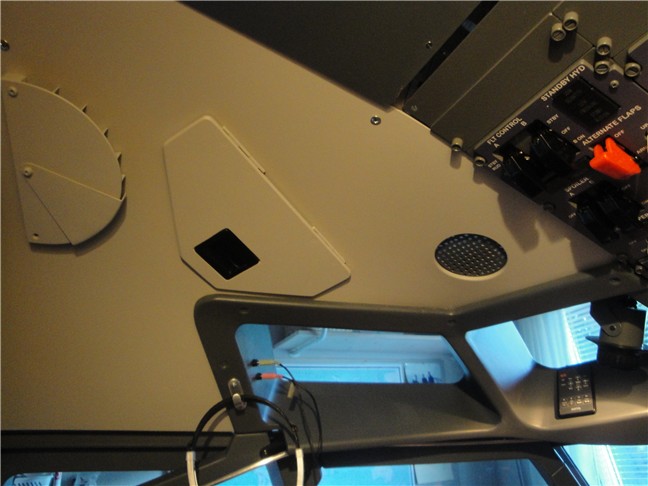 Stages of development
2010: MCP- and EFIS panel from Opencockpits are installed and both are working well with PMDG Boeing 737NG after update to 800/900 model.
In the winter I also have build left side cockpit wall with window and steering wheel etc. Windshield and glare wings are also finished. A Whisky Compass is mounted but it is not working yet.
2011: In this winter I have build Eyebrow Windows, Cockpit Lamps, FWD Overhead panel with instruments, Engine Fire Panel and pedestal for the Electronic Bay. Electric connection and programming of the OH- and Fire panel is remaining.
Nose wheel steering is working. It is now possible to handle the plane on ground at low speed (below 45 knots IAS) by the tiller in left side. Above 45 knots only the pedals is working.
Last but not least I have got a projector for the cockpit view.
2012: Finally! Main Instrument Panel (MIP) is finished and mounted in the cockpit. Next step will be to get the OH - panel alive, and the EICAS and standby instruments on the second monitor. I think I will use the Prosim 737 Suite software for this.
Seat rebuilt to NG-style with headrest and the back rest has become adjustable.
2013: Pedestal Bay equip with VHF 1, NAV 1, ADF 1 and ATC-modules from Opencockpits. Number 2 radios (dummy) and the other panels are also from OC.
My plan was to change over to Prosim in 2013 but suddenly the price was doubling to 600€. Although I had prepared my OH panel for Prosim software I decided to look for other software solutions.
It was also the year I started flying online (VATSIM). Very exiting to press the microphone button and speak to a real controler for first time.
2014: Despite the high price I bought the Prosim 737 Suite software Jan. 2014. My OH-panel and SIOC scripts were ready so after few days with configuration of all switches indicators gauges etc. in Prosim I thought the simulator was up running again. But no. The OH-interface card (USB expansion card from OC) gave troubles. SIOC could not detect the card without dis- and reconnect the USB cable one or more times. SIOC also somtime stopped running after short time. OC support told me that it could be bad power feeding of my Master cards. For two month I struggled with different power supplies and capacitors but without great progress. At last I bought a new expansion card (ver.3) and it has now worked for over a month without any problems.
My EFIS and MCP ver.2 from OC work very fine with Prosim and SIOC sript. Now the trim wheels also are working when flying with autopilot engaged. Therefore I have replaced my old noisy trim motor (BOSCH accu drill machine) by a little silent 12V gearbox motor. On the same time the speed brake auto deploy is motorized and motors for the auto throttle function are prepared. Engine Fire Panel and Cargo Fire Panel are both working well with Prosim and also most of the MIP and Throttle logic are now converted to Prosim.
I have also build a tray for my iPAD. I use iPAD as Electronic Flight Bag, Instructor Station for Prosim, weather information and as FMC/CDU as long I donīt have the hardware.
I am still using FS9 and my god old PMDG 737NG as flight model. A VDI-HDMI cable to the projector have improved the outside view a lot.
2015:
PC and software:
My old sim-computer broke down 2014 and I had to purchase a new one. The new PC (i7-4GHz/250GB SSD) is much more power full so now it was time to take the step from FS9 to FSX. I have also purchased a new weather add-on (Active Sky Next) and new flight model (Jetstream 737-800). I was not happy with the Jetstream in the start but after adjusting high of horizon and trying various eye point settings it was again possible for me to make a fairly good landing. Today after many hours of practice I am happy with the updates.
Electronic Bay:
To perform Auto-landing my NAV 2 dummy has been replaced by a working second NAV radio from Opencockpits. OC radios have now new more realistic knobs rounded edges and a nice warm white background light.
New Gear handle:
I have made a new handle with electromagnetic lock and working lock override trigger.
OH-Panel:
Engine Start Switches are modified. Now you need to push the knob before it can be turned. Just like the real one.
New Yaw damper and Wing Anti Ice switches with electromagnetic hold.
CDU-Bay:
The CDU has been my Christmas wish for many years. Now I have purchased one from Opencockpits. It could not fit my CDU-bay so it was necessary to make some modifications on the CDU and the bay. Frame for lower DU is ready

2016: CDU-Bay finished with a dummy CDU from Opencockpits and a monitor for the lower DU.
LCD Controller Board DIY Kit from AliExpress (US $ 28 incl. shipping costs Hong Kong-Denmark by air mail) does it possible to reuse the LCD screen from my old Notebook PC .
The kit fit the LCD connectors perfect and after connecting 12V DC and VGA cable it was running.
MAP-CHART light panel rebuild wit new panel from Opencockpits
2017: Three Year ago I purchased one DC Motor Plus Card from Opencockpits. It was my plan to use it for motorize my old Throttle unit but first now after some small tests of the card I got courage enough to start the project at January this year.
It has been 3 month with a lot of work and many troubles and without any flight hours in my logbook.
The manual to the card is good but it tells not every thing and for long time I had great problems with USB disconnection. OC support told me to connect pin 1 and 2 on unused analog inputs and to remove the noise damping capacitors between motor connector and motor housing. This solved many of the disconnect problems but still with 4 motors connected it was not fully stable.
The card is only rated for 2A and it is for the total numbers of motors so maybe my motors are to powerful. With 2 motors it works fine and my Trim- and Spoiler Motor are instead of controlled by relays as before.
All the Throttle potentiometers are configured and calibrated in Prosim Levers config. You need also a little SIOC script with only 3 inputs from Prosim ( AT power ON gate - Lever 1 and 2 servo output numerical ). Remember the SIOC subroutine for reading the servo output more times/ sec. otherwise the levers donīt move.
Until now I have only few flights with the updated Throttle but it seems to work well. I hope one day to upload a little video showing how nice and steady the levers are moving.
Bellow you can follow the development of my Flight Simulator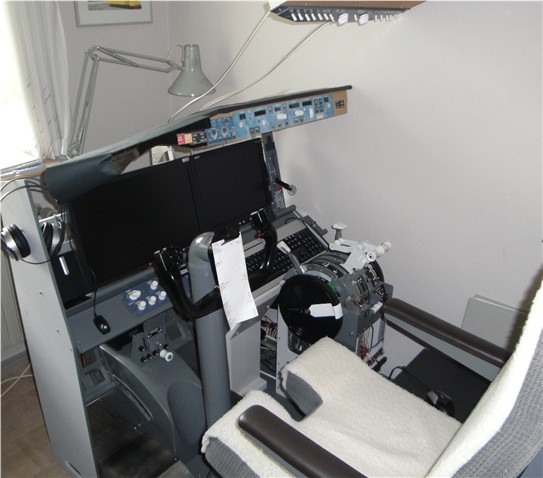 My "Open Cockpit" from the start in 2009. Glare shield EFIS and MCP are only dummy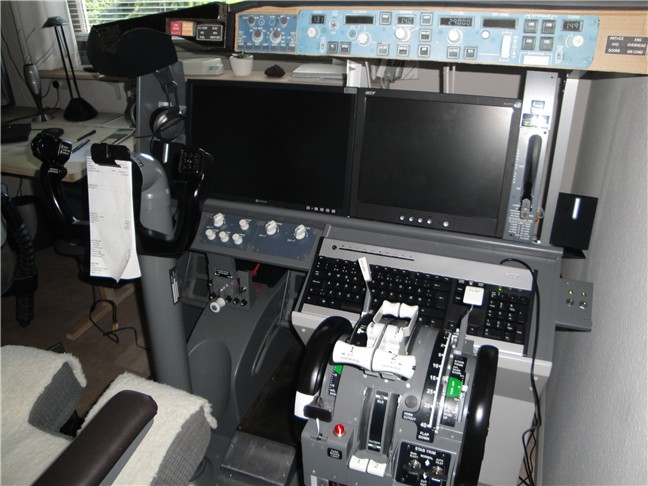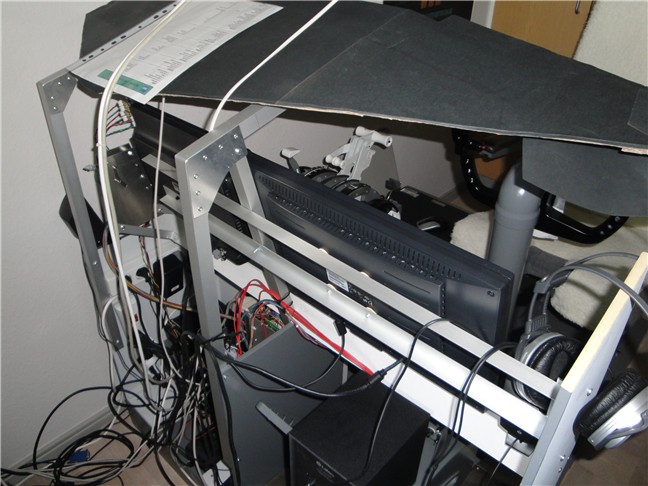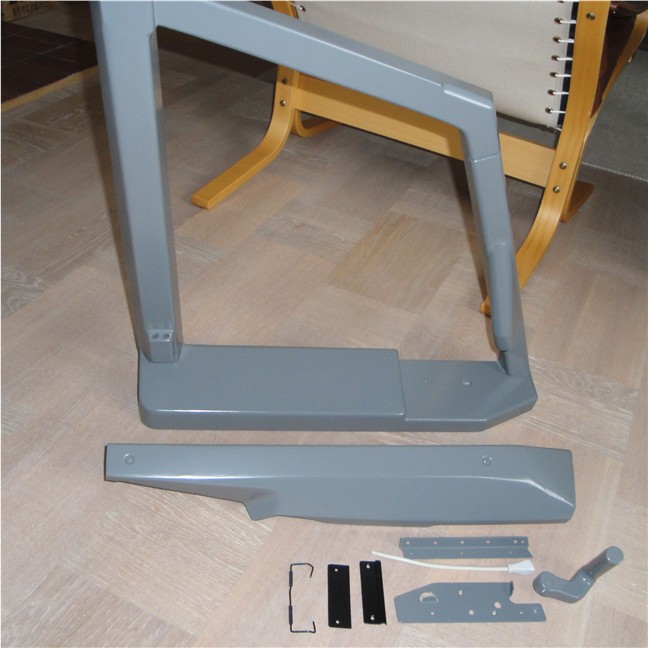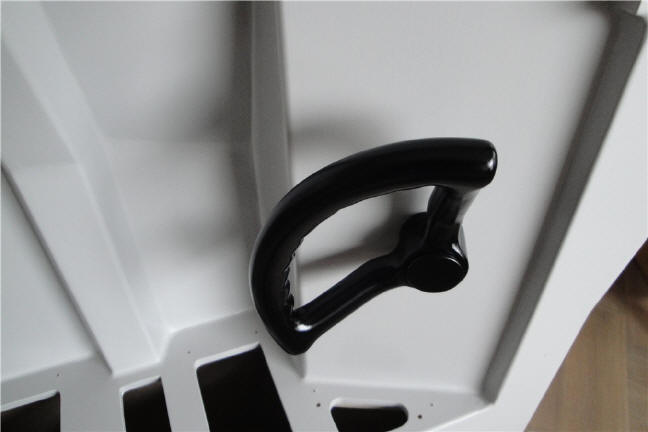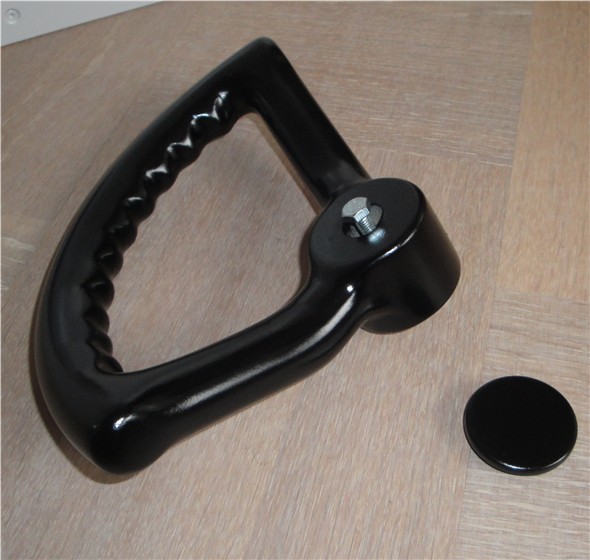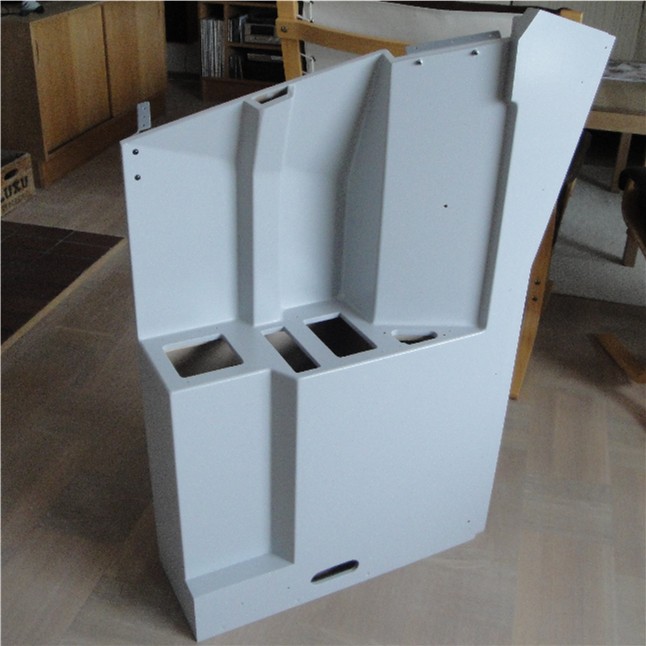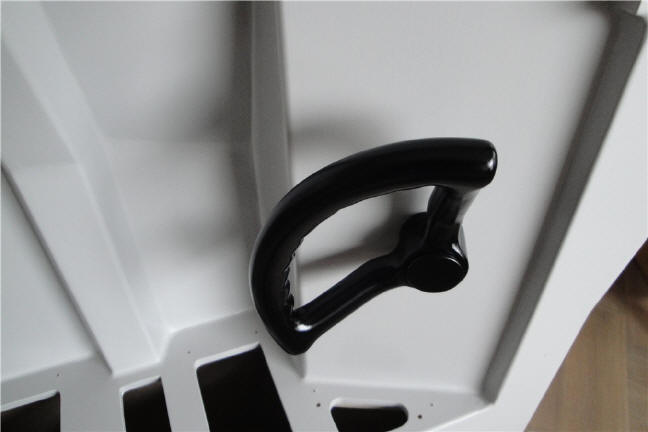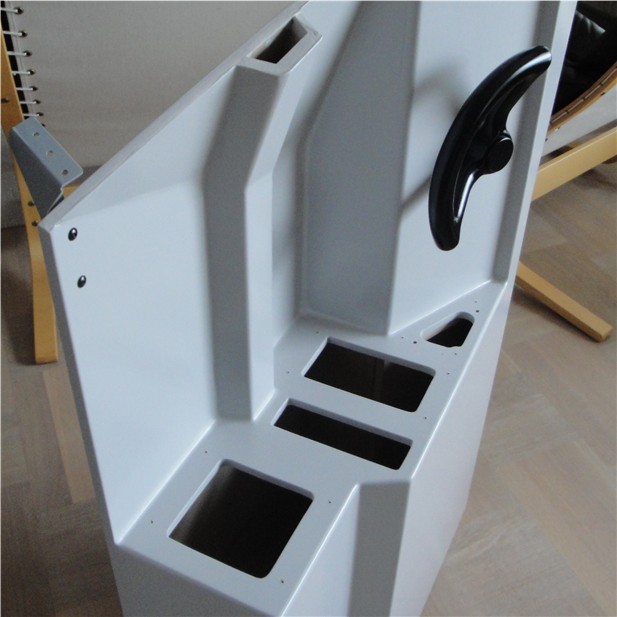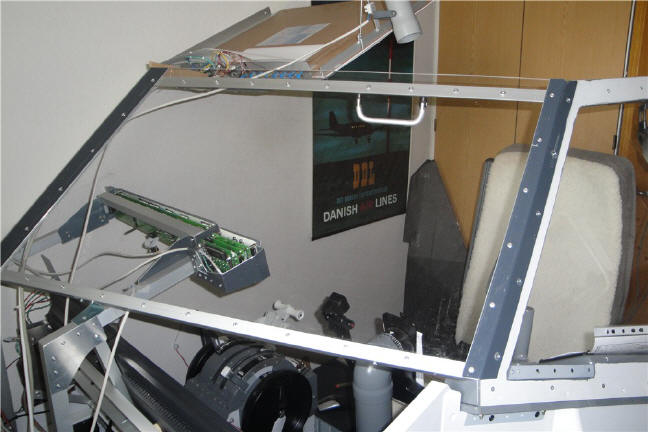 Wind shield of alu. profiles and 3mm acrylic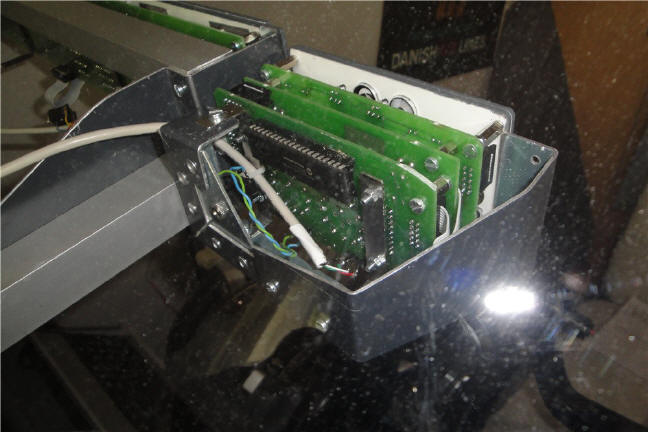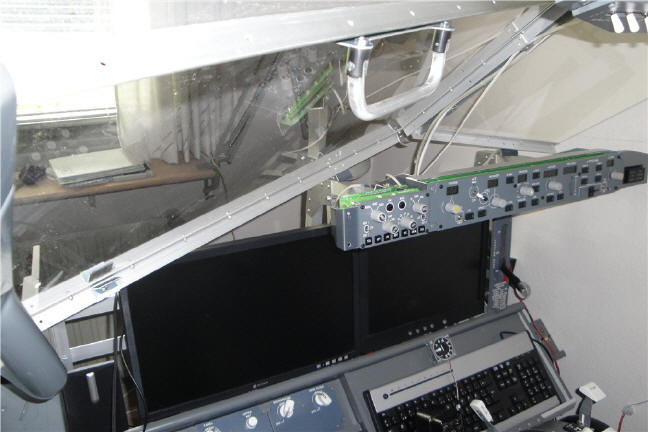 MCP- and EFIS panel from Opencockpits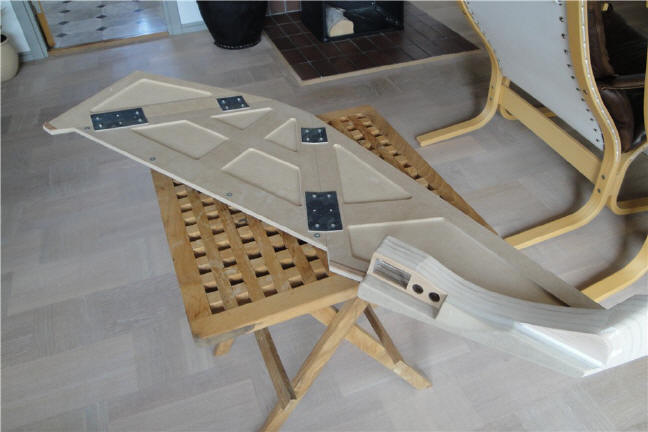 Glare shield of 10mm MDF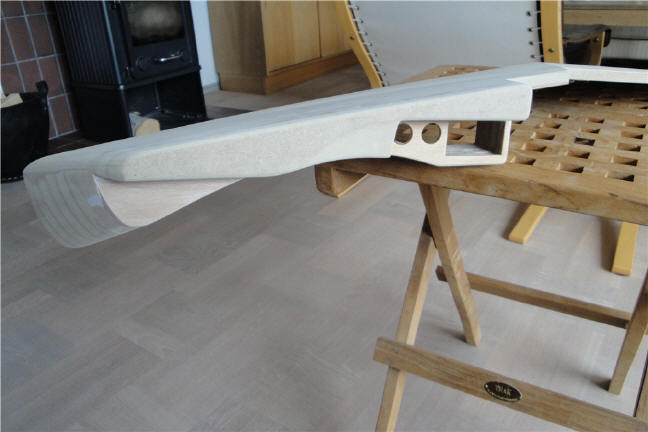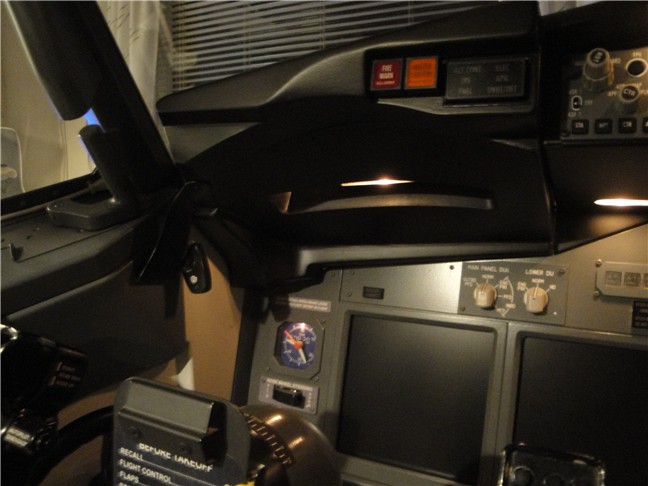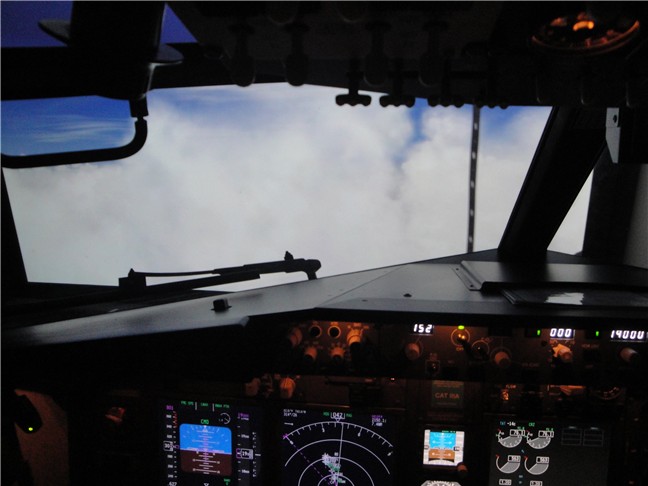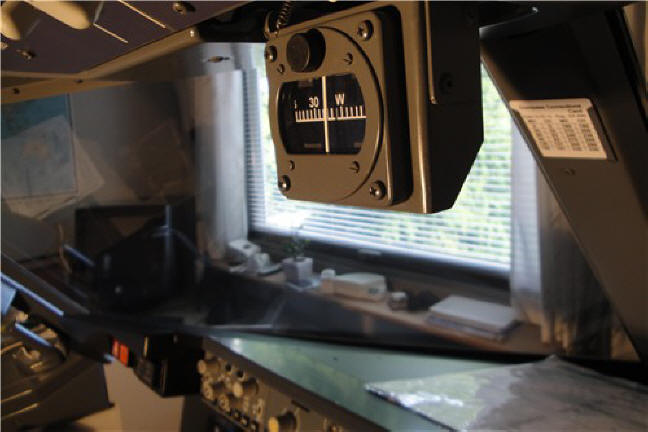 Compass dummy. Today (2013) it is working with a stepper motor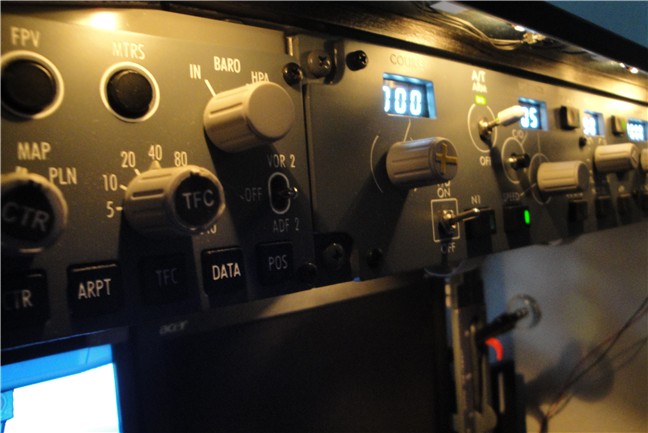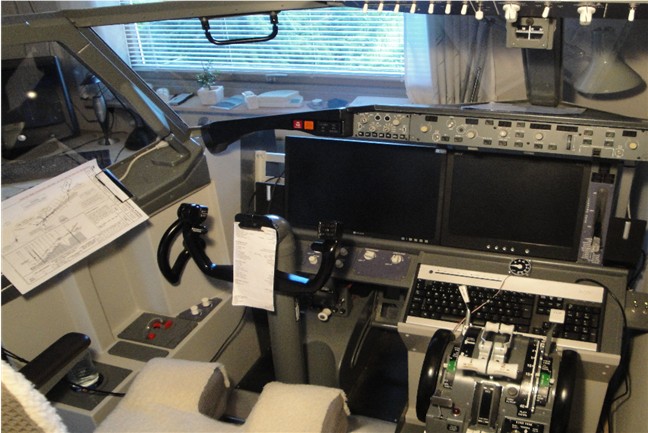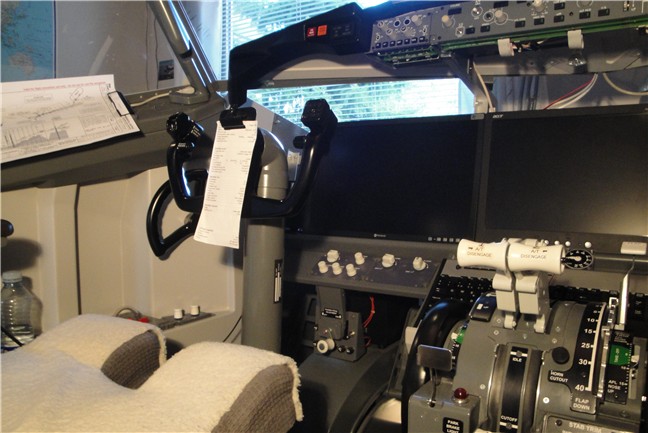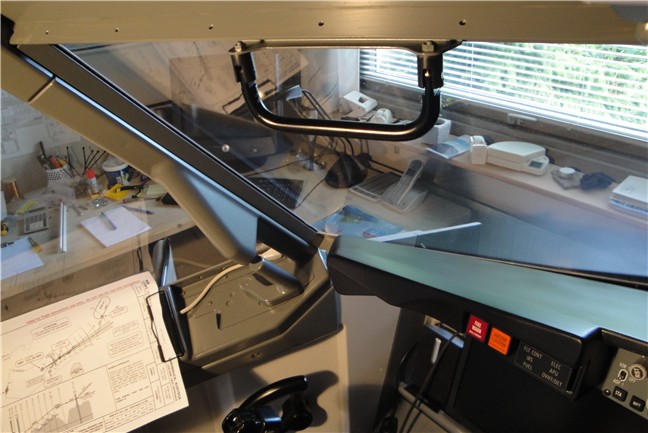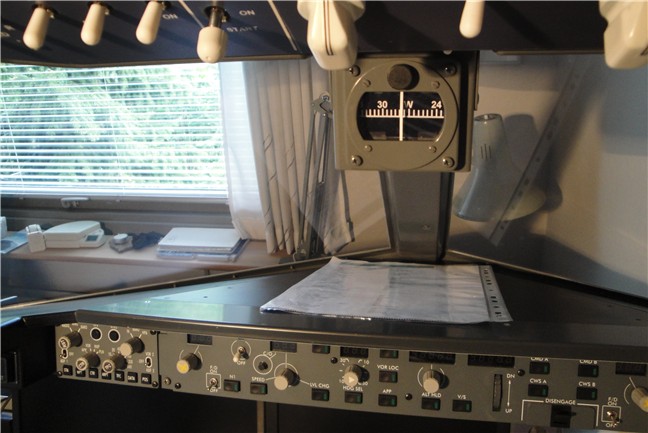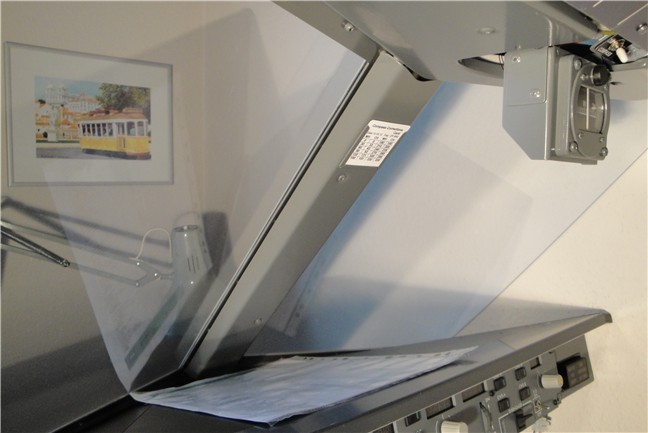 Fire Warning and Master Caution switches and the sixpack recall annunciator are from Engravity.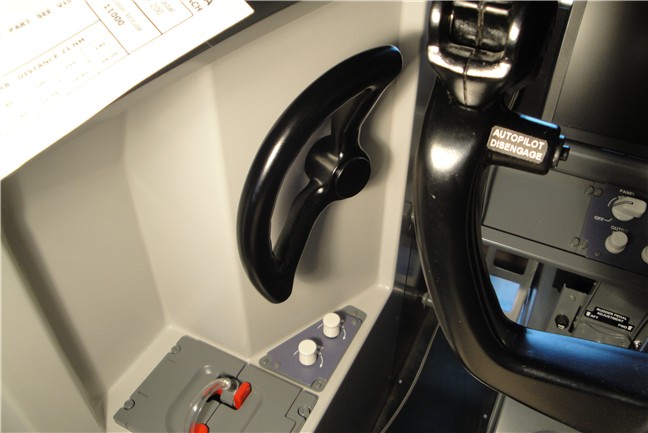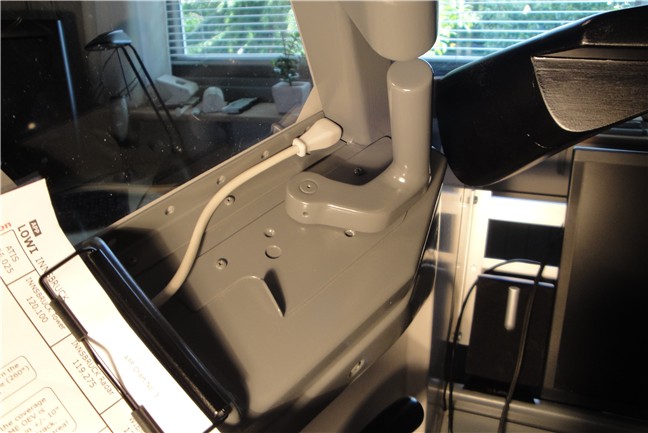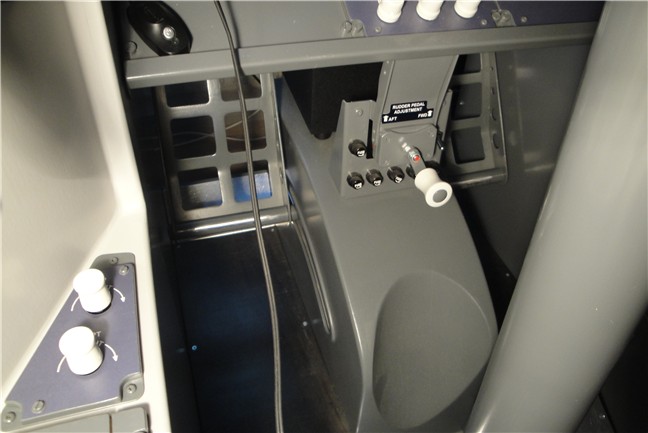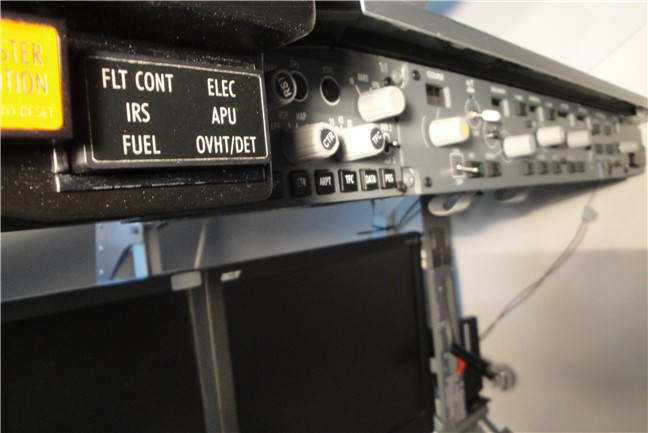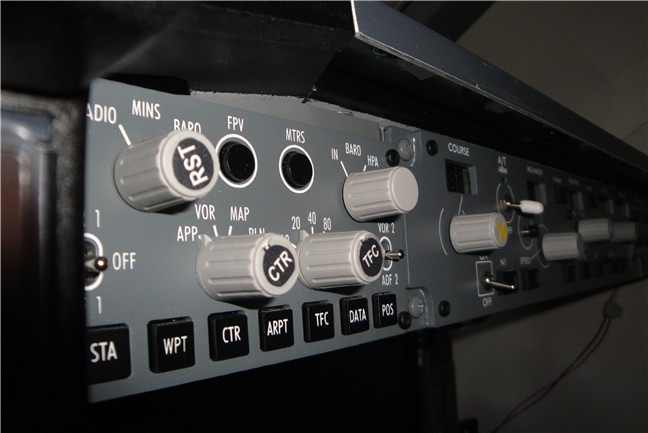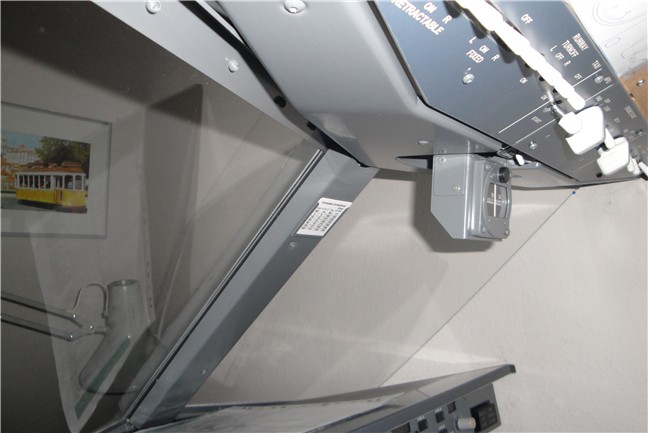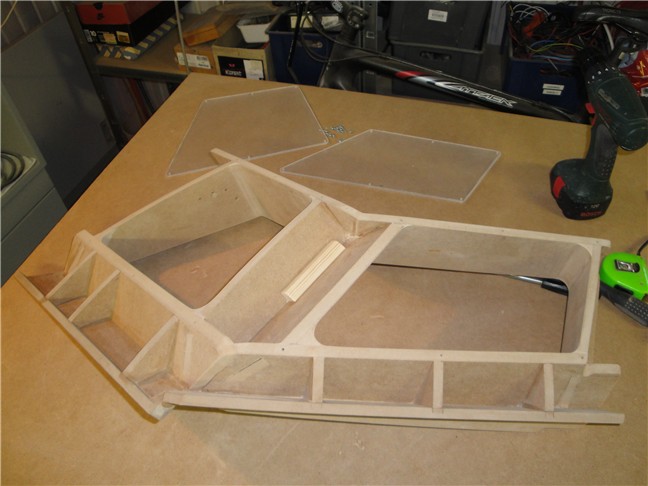 Eyebrow Windows also in 10 mm MDF (2011)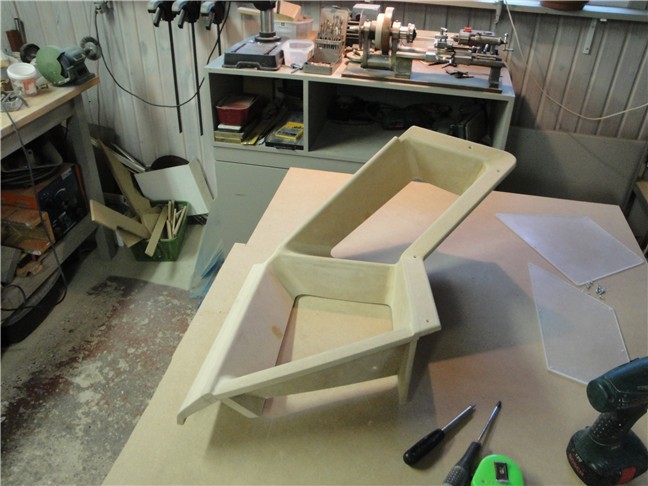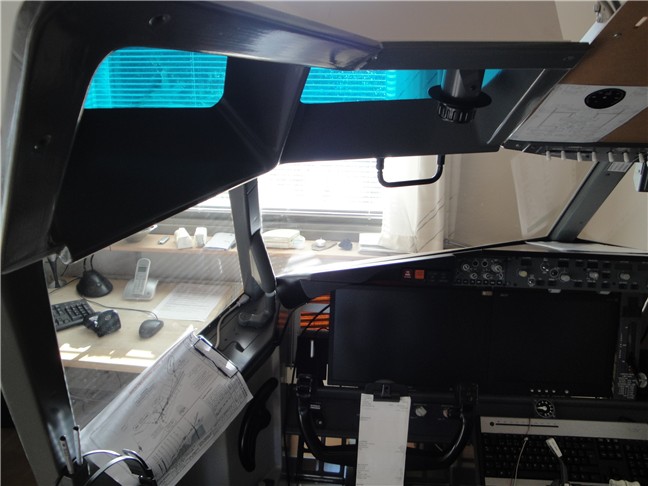 Eyebrow painted and placed in the cockpit. Nice with a almost closed cockpit.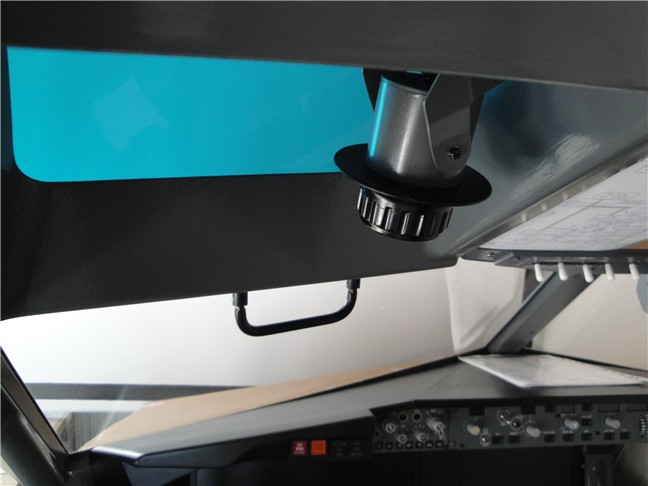 Cockpit Lamp for the Eyebrow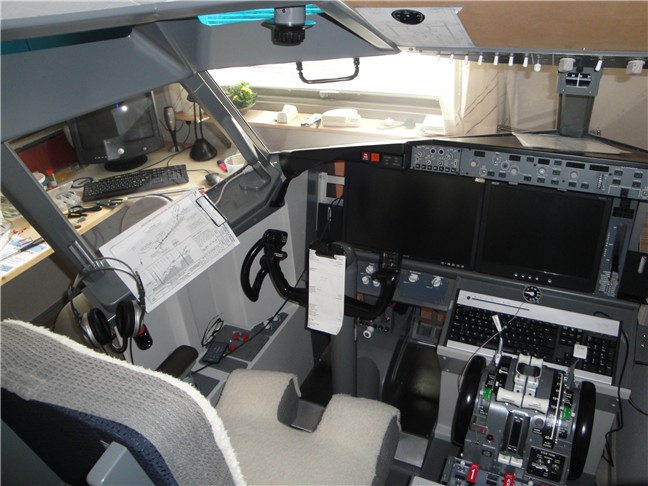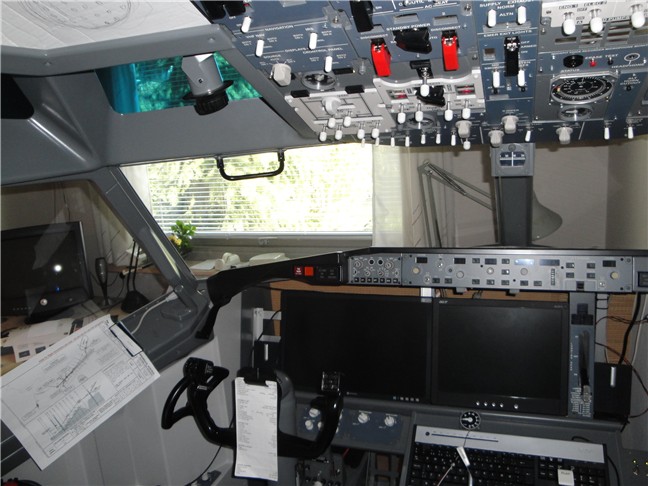 My home made OH-Panel in the cockpit 2011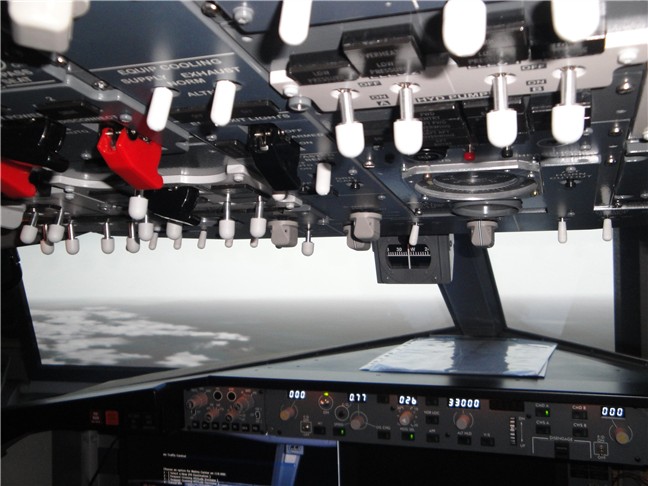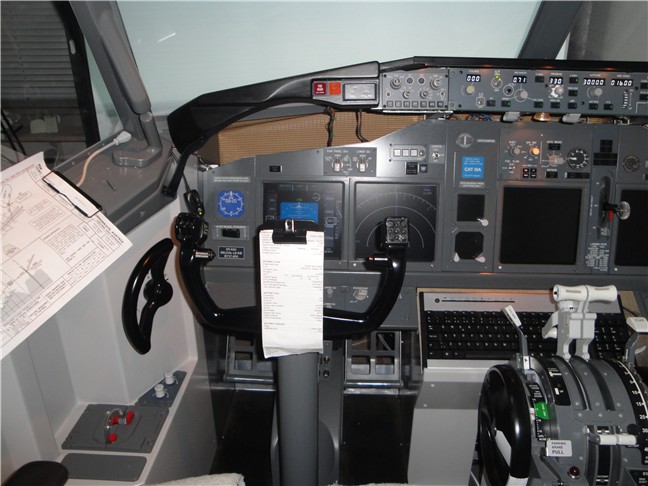 2012: Main Instrument Panel is finished and mounted in the cockpit.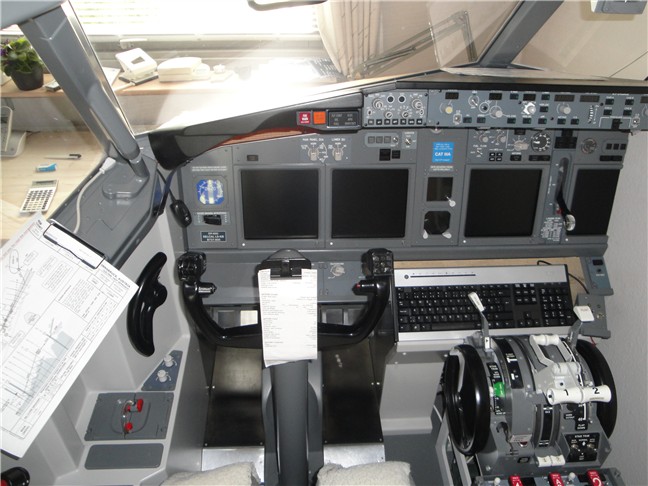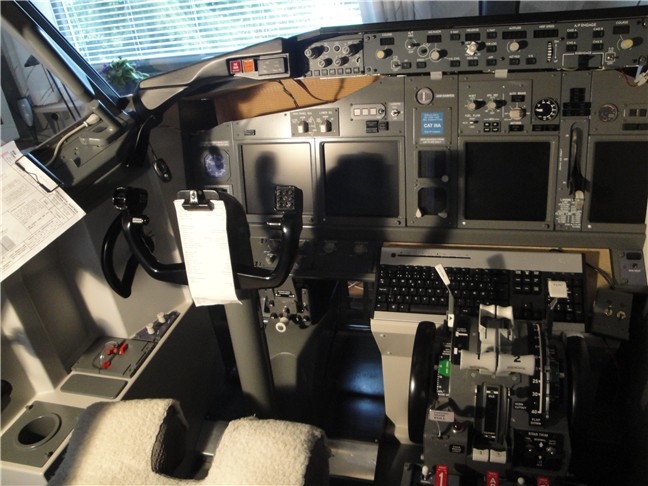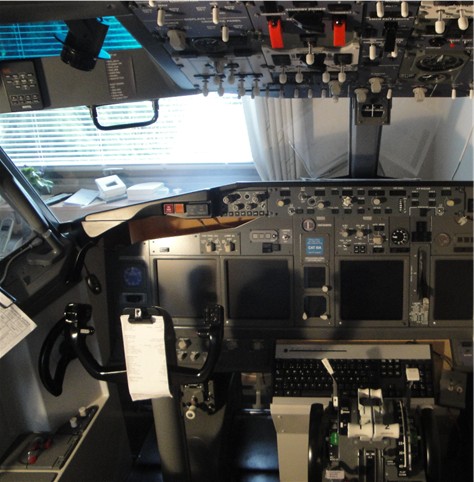 My single seat Boeing 737NG (2013)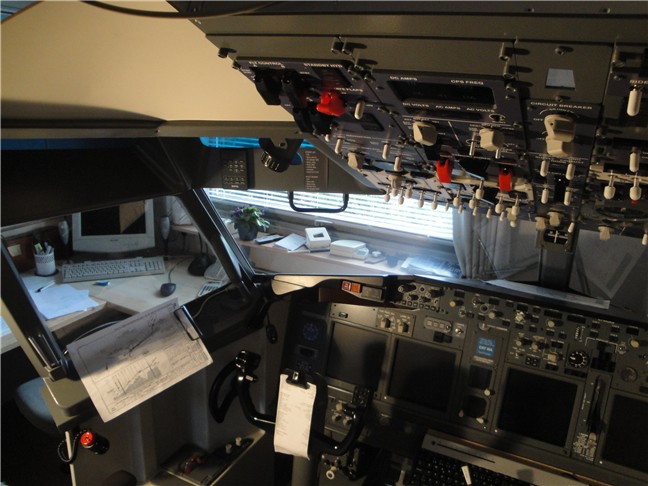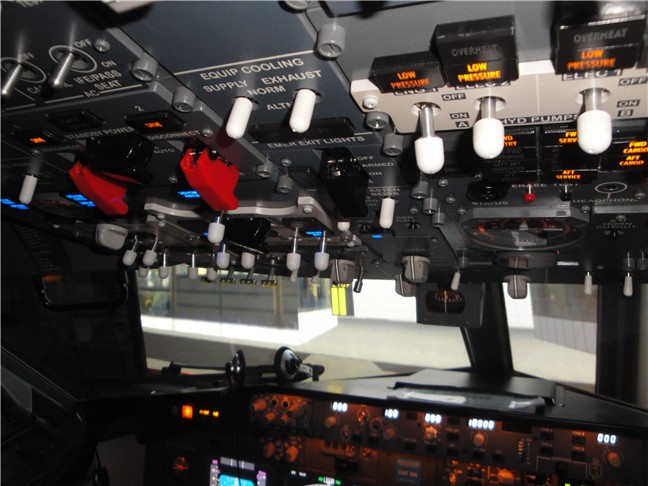 My simulator 2014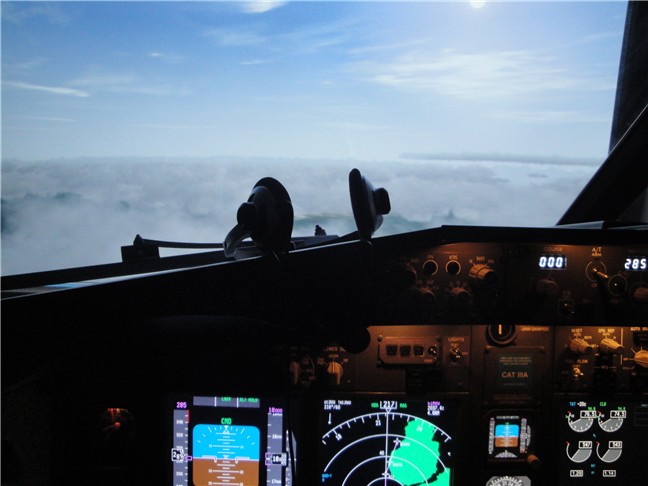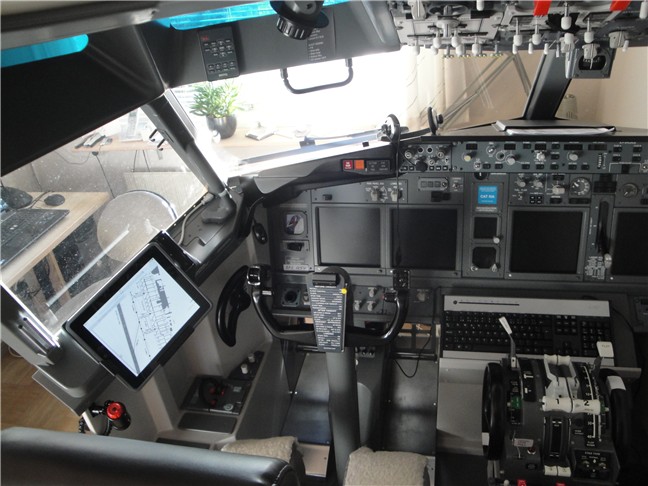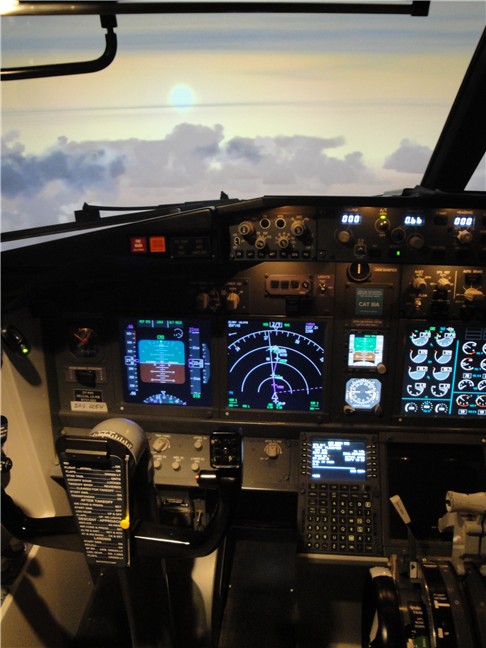 First flight after hardware CDU has been installed. 2015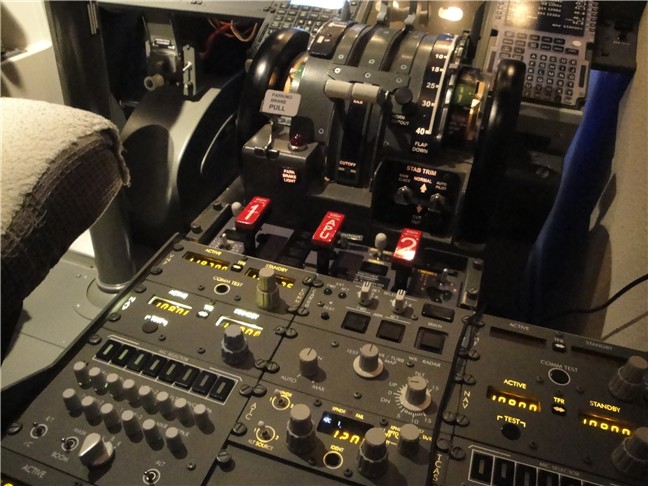 My dummy NAV2-radio is replaced by a working one from OC and it is now possible to make an auto-landing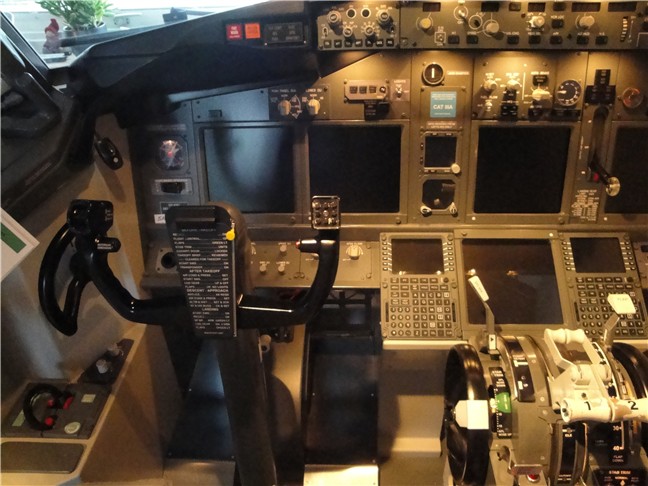 My single seat simulator Mar. 2016 now with dummy CDU and working Lower DU