Index:
PC-/Display-/ software layout
Interface card layout Throttle MIP and Pedestal
Plug and play Units
Interface card layout FWD - and AFT OH- panel News
In- out Module
Relay card TQ
MIP and light dimmers
OH - panel
DC Motor Plus Card
PC / displays and software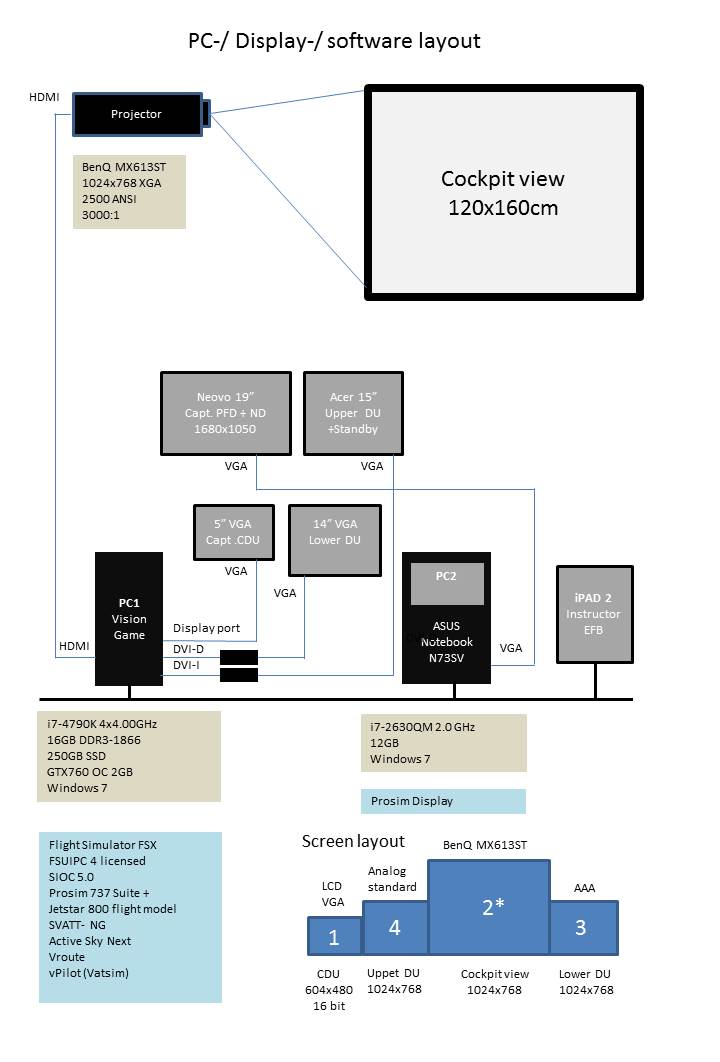 Interface card layout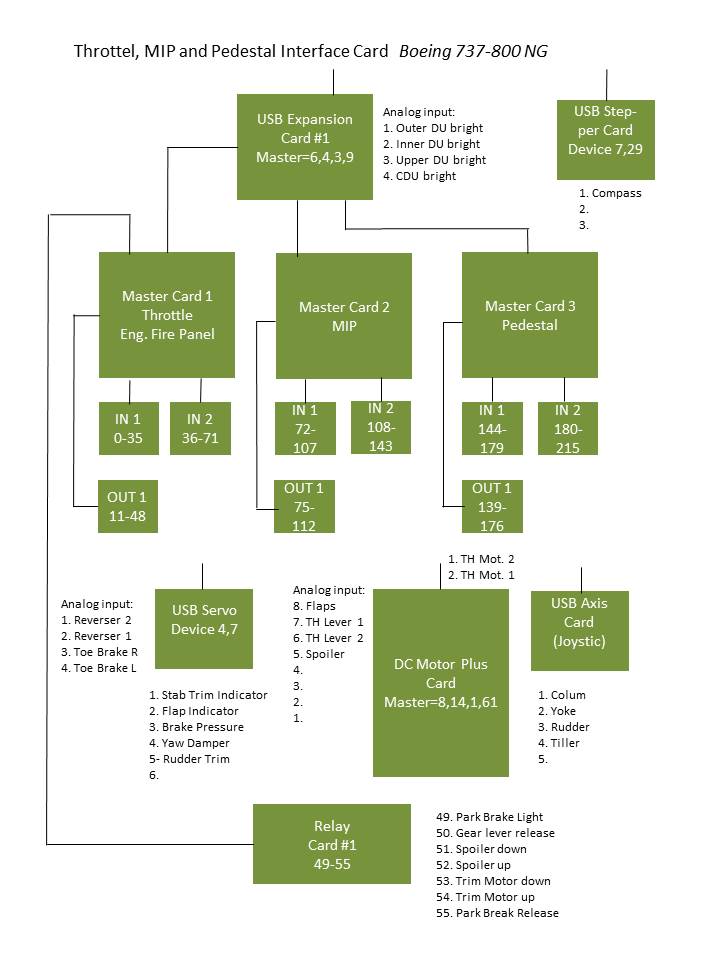 Throttle levers potentiometers are moved from Axis Card to DC Motor Card. This means space for Rudder and Tiller on the Axis Card and I can now use the Rudder/Tiller coordinate function in FSUIPC.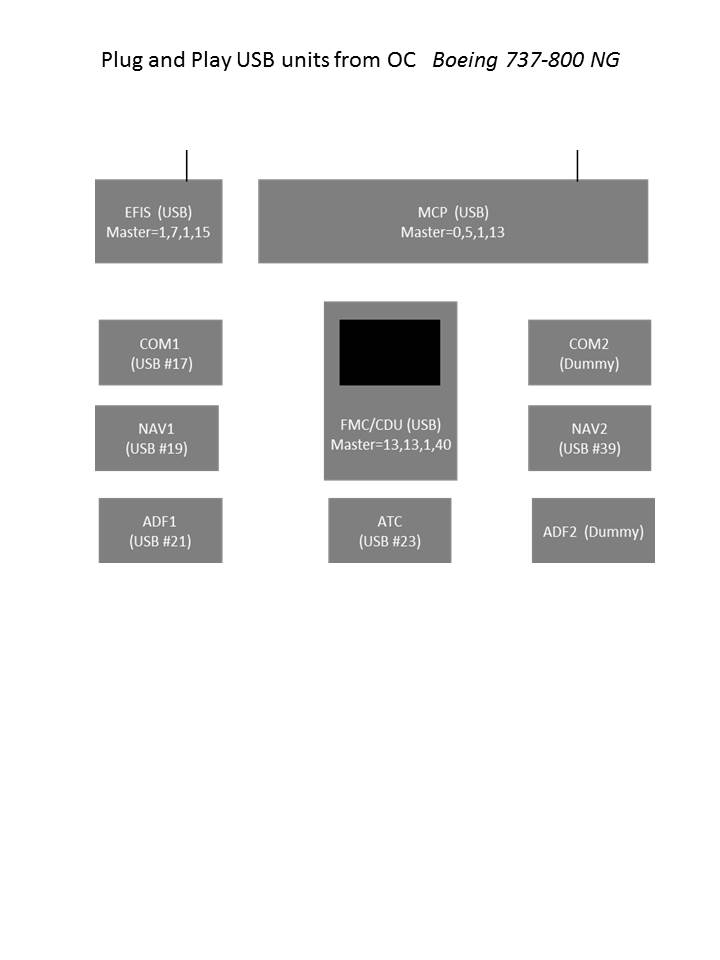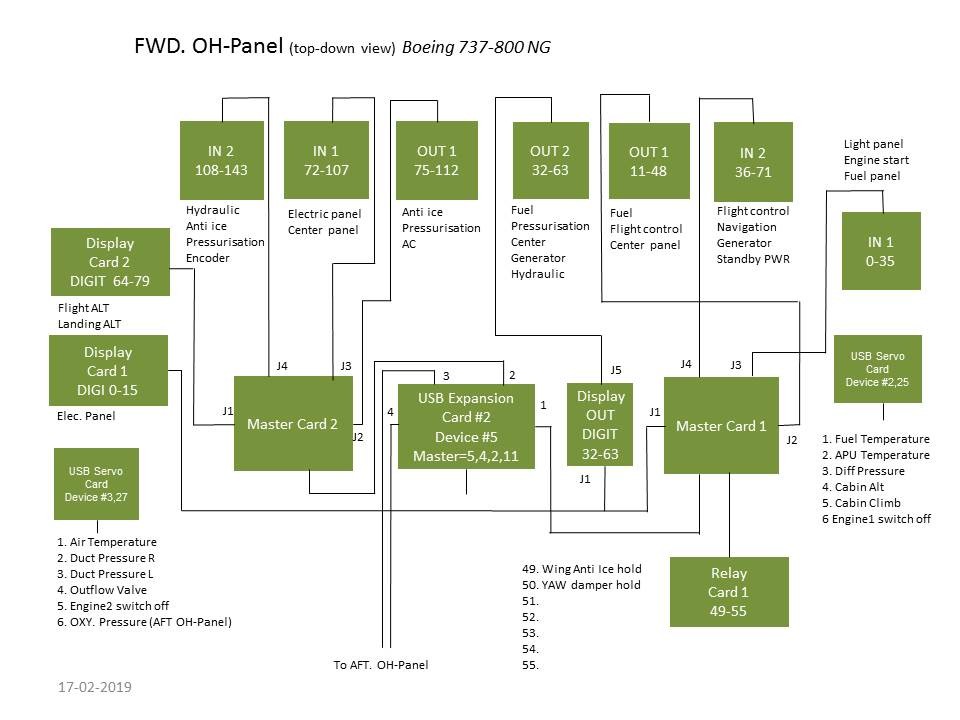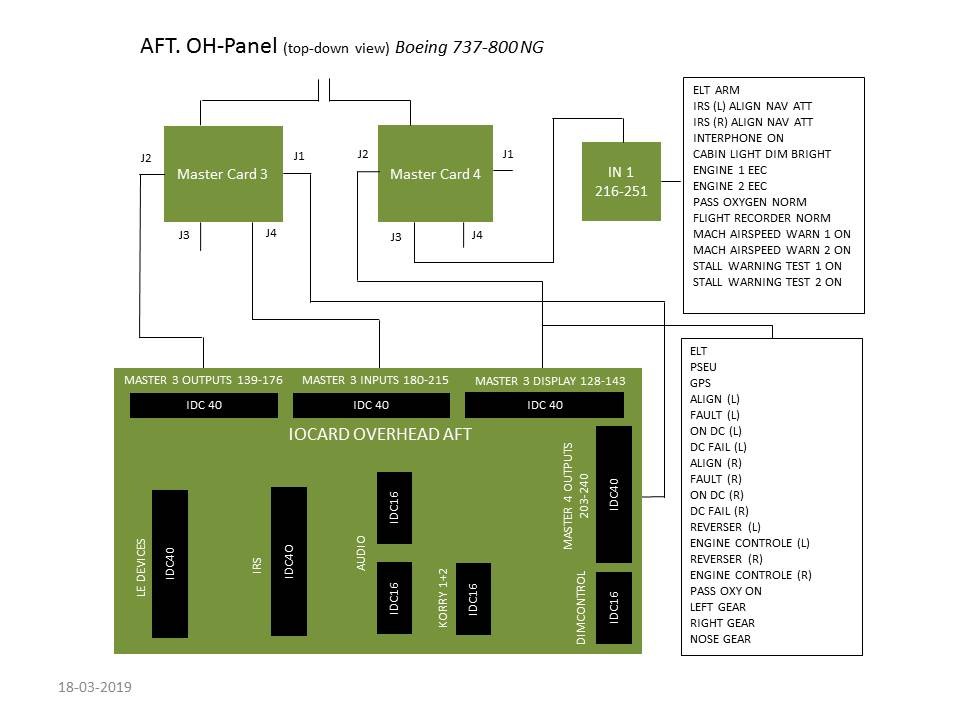 Note! There is a failure on the Card from OC. Descriptions text of the IDC40 sockets Master (3) Display and Master (4) Out has been interchanged. This issue gave me great troubles until I at last got my cables interchanged too.
In- Out module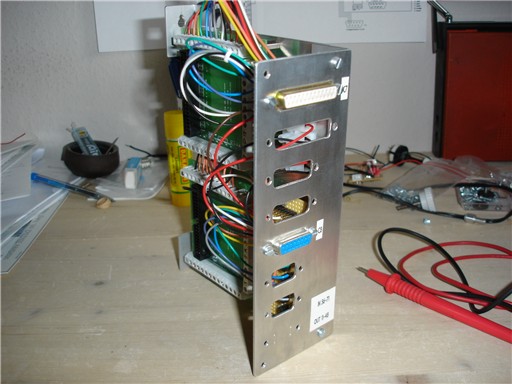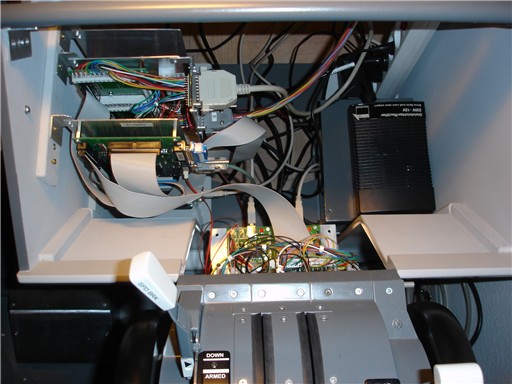 Cards are mounted on a 180x125mm sheet of alu. Spec fittings cause the modules easy can be placed or re-placed in two rows on the left side of the centre forward e-bay. An exception is the USB Axis, USB Servo and Relay card witch are placed directly on the TQ.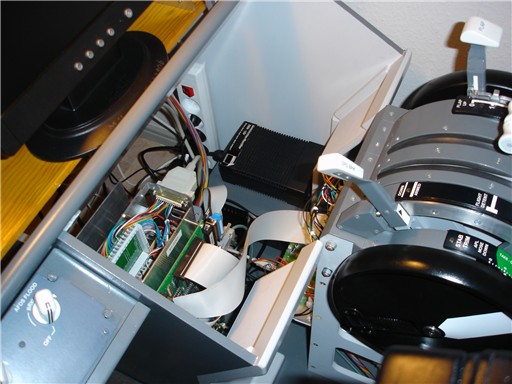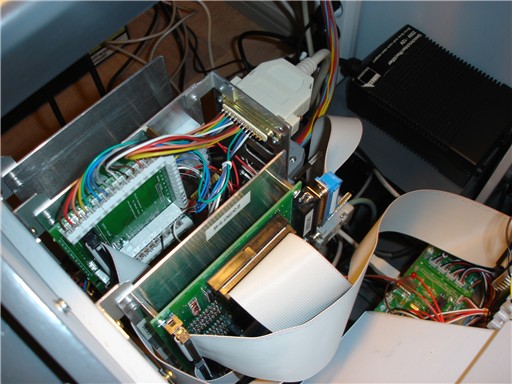 Relay Card TQ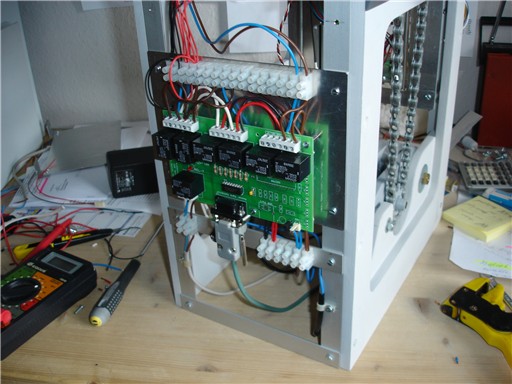 TQ with Relay Card. I use Relay for Parking Brake light, Spoiler motor auto deploy/stow and
Trim motor up/down (2 relays)
To day (2017) I also use relays for Gear Lever Release and Parking Brake Release (solenoid)
MIP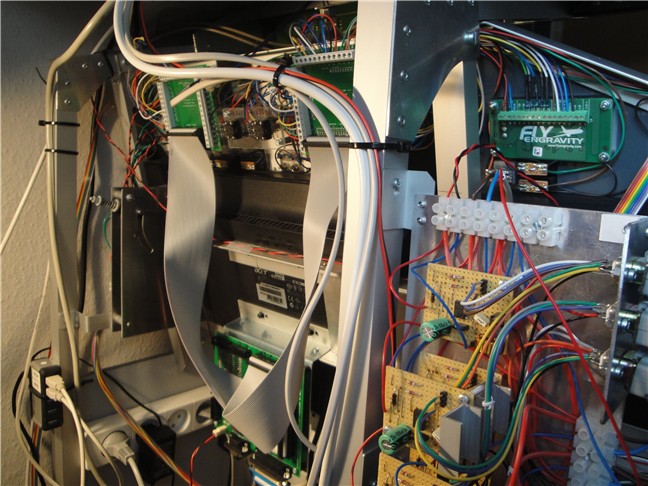 Back of the MIP. Master card #2 and above the In- and Out- connections Cards. Down-right you can see my home made light dimmers .
OH - Panel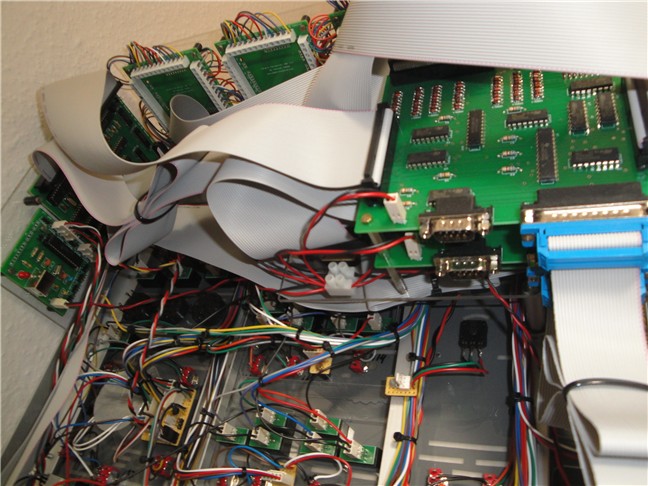 Back of the OH-panel. Interface cards from Opencockpits. USB expansion Card #2, two Master Cards, one Display Out card, two Display II cards and two USB Servo cards.
DC Motor Plus Card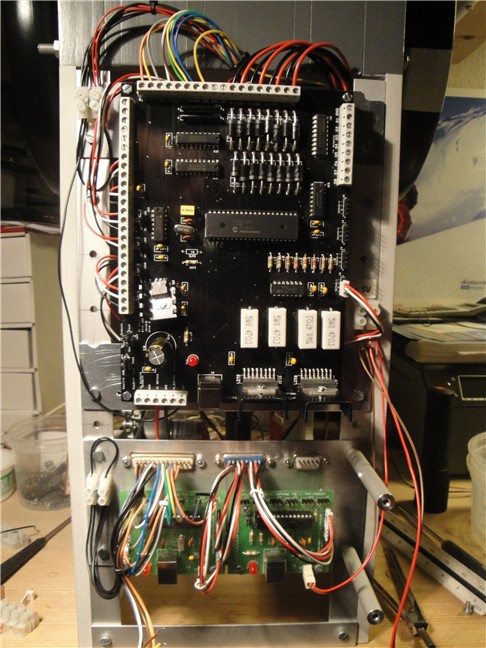 Throttle Unit with USB DC Motor Plus Card from OC (upper). Bellow my old Axis (Joystick) card and a servo card.

The manual to the card is good but it tells not every thing and for long time I had great problems with USB disconnection. OC support told me to connect pin 1 and 2 on unused analogous input and to remove the noise damping capacitors between motor connector and motor housing. This solved many of the disconnect problems but still with 4 motors connected it was not fully stable. (Analogous input AN1 to AN4 work only up to value 127 above they get unstable).

The card is only rated for nom. 2A and it is for the total numbers of motors so may be my motors are to powerful. With 2 motors it works fine and my Trim- and Spoiler Motor are instead of controlled by relays as before.
All the Throttle potentiometers are configured and calibrated in Prosim Levers configuration. You need also a little SIOC script with only 3 inputs from Prosim:

AT power ON gate
Lever 1 servo output numerical
Lever 2 servo output numerical

Remember the SIOC subroutine for reading the servo output more times/ sec. otherwise the levers donīt move.
Until now I have only few flights with the updated Throttle but it seems to work well. I hope one day to upload a little video showing how nice and steady the Levers are moving.